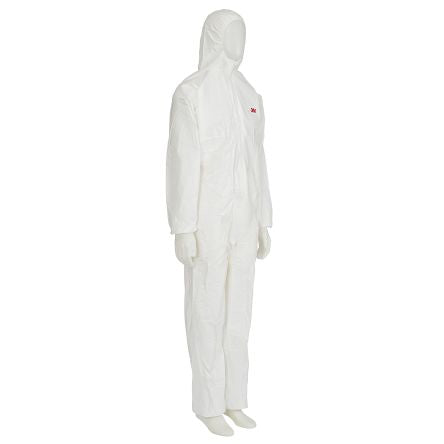 3M™ 4520 Protective Coverall
3M™ Protective Coverall 4520 has been engineered to offer multiple layers of SMMMS for effective hold out and strength at a lightweight 43gsm. Superbly breathable and soft with a cloth like feel it can be worn for extended periods comfortably and protects against static discharge, hazardous particulates and liquid splash Type 5/6.
Use 3M™ Protective Coverall 4520 for protection against dirt, splashes and toxic dusts, including nuclear particles. It meets a variety of standards for chemical protective clothing including EN 1149 Antistatic protection, EN 1073-2 Nuclear particulate resistance, EN ISO 13688, Type 6 Liquid Splash EN 13034 and Type 5 Dust EN ISO 13982-1. You can identify it easily with the green triangle which is made of the same 43gsm SMMMS as the rest. This coverall has been engineered to reduce the weight and retain the performance through the addition of multiple layers. It's made with SMMMS which is a layer of spunbond on the inner and outer and 3 layers of meltblown material in the middle. The Spunbond acts as the smooth strength and splash protection, while the Meltblown layers provide an intricate multilayered web of microfibres that filter out dry particulates. Soft, breathable and very lightweight, the non-woven material allows for easier release of body heat and moisture, giving extended comfort wear for increased productivity in the workplace. Offering antistatic performance to EN 1149 to minimise discharge and risk of sparks and ignition. The 3M protective coverall 4520 is favoured for particulate based applications such as pharmaceutical processing and the handling of toxic powders.