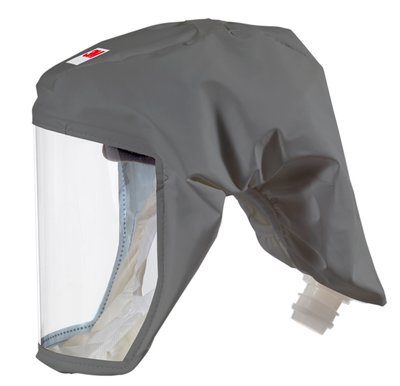 3M™ Versaflo™ Integrated Suspension High Durability Head Cover, S-333
Only pre-order is available. Waiting time 2-4 weeks.
3M™ Versaflo™ High Durability Headcover, S-300 Series is our high durability head cover with an integrated head suspension for full head and face coverage, as well as eye and face protection. Our head cover is manufactured using soft, quiet, low-linting fabric for high levels of comfort.It can be used with 3M™ Powered Air Respirators and Supplied Air Respirator Systems in a wide variety of applications.
Get head, face and eye protection with 3M™ Versaflo™ S-Series High Durability Headcovers S-300 Series. The integrated head suspension provides full head and face coverage and the eyes and face are shielded by the cover to EN166; the same impact level as some safety spectacles. Our head cover is manufactured using a durable, soft, quiet and low-linting fabric which offers high level of user comfort. The head top features an integrated suspension which makes it suitable for applications that require frequent replacement of the entire headtop assembly or where there is less soiling of the outer fabric. The suspension assembly and air inlet components can be easily removed and separated for segregated waste streams. This head cover provides an excellent field of view, particularly downwards, giving you better visuals while working. There's no assembly required, and the head cover can be used straight out of the box. This headcover is CE approved and rated to EN 166:2:F:3, EN14594 3A, EN 12941 TH3.