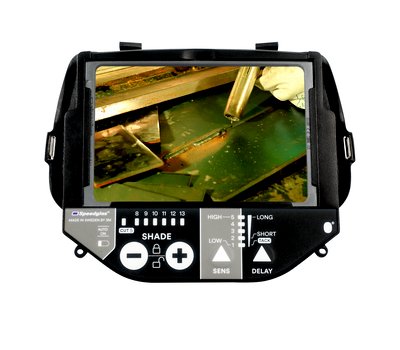 3M™ Speedglas™ Welding Filter G5 Series, G5-01TW, 610020
Only pre-order is available. Waiting time 2-4 weeks.
Introducing the world's first curved auto-darkening filter (ADF) designed for the 3M™ Speedglas ™ Welding Helmet G5-02. Utilizing the new 3M ™ Speedglas™ Curved Glass Technology, its shape follows your head's curvature and the range of your peripheral vision.
Experience great clarity before the weld with our new 2.5 light state, and during the weld with our 3M™ Speedglas™ Natural Colour Technology. Colours appear brighter and more realistic in both the light and dark states. Designed to be more intuitive, you'll love our new control panel: controls are located on both sides of your viewing area. The most frequently used controls (Shade and Sensitivity) are in the most accessible locations: the lower left and right corners. Thanks to the improved optics, the G5-01 welding filter, allows you to more readily recognize colours thanks to 3M™ Speedglas™ Natural Colour Technology.