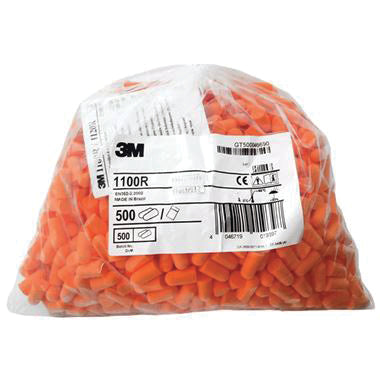 3M™ 1100 Earplugs
In stock
Package:
Individual (10 pairs)
The 3M™ 1100 Earplugs are disposable foam earplugs designed for insertion into the ear canal to help reduce exposure to hazardous levels of noise up to 37 dB.
Get comfortable hearing protection with 3M™ 1100 Earplugs. Easy to roll down and insert, their tapered design helps provide a noise-reducing seal in the ear canal. Made with a soft, hypoallergenic foam they react and soften with your body temperature offering a longer more comfortable wear. Fully tested and approved against EN 352-2 they can reduce noise levels by 37 dB. Model is compatible for use with the 3M™ E-A-RFit™ Dual-Ear Validation System and available as a probed plug. Available in refill bottles for use with 3M™ E-A-R™ One Touch™ Pro Earplug Dispenser for convenient on site easy access to hearing protection with reduced waste.