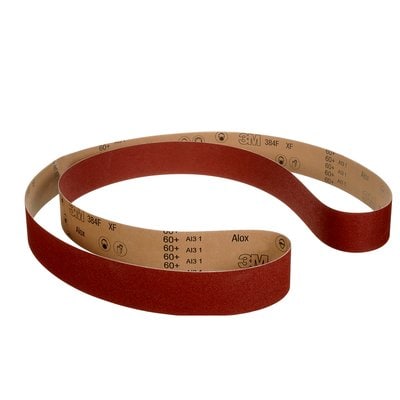 3M™ Cubitron™ II 384F Cloth Belt
In stock
Size:
10 x 330 mm (50 pcs)
3M™ Cloth Belt 384F is a general-purpose aluminum oxide cloth-backed belt recommended for metal deburring, general metalworking, and some woodworking applications. It is optimized for use on mild steel and carbon steel, and is also effective on softer metals like aluminum, bronze and brass.
Consistent, Reliable Performance
Our 3M™ Cloth Belt 384F contains fast-cutting aluminum oxide abrasive grains resin-bonded to a durable XF-weight polyester cloth backing to provide you with the continuous cut and long-life performance necessary for more aggressive metalworking applications. For finishing on metal, the closed coat construction offers a consistent, fine finish, and is suitable for producing a grain pattern. The backing is waterproof to support both wet and dry applications.
Fast-Cutting Grain with Durable Construction
Aluminum oxide mineral is a popular choice among industrial professionals because of its cut-rate, durability, and long life. It can be used on a wide variety of materials in both woodworking and metalworking, including ferrous alloys, and is the most commonly used industrial abrasive. The abrasive particles are adhered to the cloth backing with resin, creating a strong bond that withstands high heat and pressure. These attributes make it suitable for gate grinding and weld removal, as well as deburring and finishing applications.
3M Engineered for Optimal Performance
3M Abrasives engineers know abrasive belt construction. For more than 100 years 3M has been a leading abrasive supplier of the metalworking and woodworking industries. We offer a complete line of high-quality metalworking abrasive solutions to meet your tough jobs. 3M engineers developed 3M™ Cloth Belt 384F with increased cut and durability for top performance on general purpose sanding and grinding applications. It is yet another example of how 3M science provides improved solutions for industrial applications.